Who's Afraid Of The Big Bad Raid?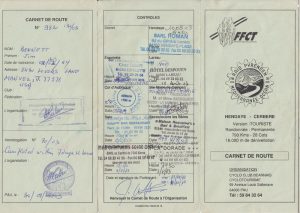 Sweltering Mediterranean Sun. Cloudless sky. Heatwave. Topless bathers. The strange brand of humanity known as "Beach People." Bike repairs and cleaning. Clothes washing. Lots of eating and waiting. Writing in his journal. That's how the next two days passed in preparation for the Raid Pyreneen. What exactly is a "Raid Pyreneen?" The RP is a ride that starts in Cerbere, France on the Mediterranean coast–only 4K from Spain–and ends 790 kilometers, 28 passes, and 16,000 meters of climbing later in Hendaye, on the Atlantic coast. One is allowed 10 days to complete the crossing, and must obtain stamps at various control points along the way in order to verify one's progress. As if this were not bad enough, it was Our Hero's fate to challenge these mountains with a 40-lb load in 100+ degree Fahrenheit heat.
This ride alone could occupy many many pages, dear reader, in which I, your faithful scribe, would recount the King's glowing tales of triumph, adversity, heroism, rage, perseverance and passion, but such a brilliant and inspiring retelling will have to wait for another time, another place. Leave such stories to Scheherazade, I say, for I will not tell them. Not here. And disappointed though you must be at my callous refusal to provide uplifting and examplary parables for your personal and moral edification, you will undoubtedly make do with the following few general observations.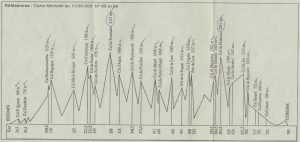 Of these, this is the most important by far: he completed the ride successfully in 7 days and 12 hours–rolling into the forgettable and ugly and forgettably forgettable Hendaye on the 10th of August, ecstatic beyond all belief. Along the way he conquered many of the most famous climbs in cycling: Tourmalet, Port de Pailheres, Aspin, Peyresourde, Portet d'Aspet, Portillon, Aubisque . . . and the hardest (though not most famous) of them all: Col Bagargui. He learned to hate RVs and racing bikes (the motorized variety), and came to love most everything else about the French and their love of cycling. Were you inclined to ask him, he would be unable to tell you how many people screamed "Allez allez!" or "Bon Courage!" or "Bravo!" at him on those endless, merciless, brutal climbs, but he would tell you that their encouragement and kindness made a difference more times than you can imagine. Amongst other lessons, he learned to recognize the sound of his own pulse pounding within his left ear–as a result of overexertion under the midday sun (the first time he heard it he was convinced that there was some sort of machine clanking away in the river valley far below him). He relearned the seemingly trite but true lesson that EVERYTHING can be accomplished in life if one just continues to push on the pedals (more commonly but less interestingly expressed as "continues putting one foot in front of the other") and rediscovered many other fundamental things about himself and his own character in the extremity of those days and hours. He will NEVER, as he says, EVER forget those 7 days and 12 hours in early August of 2003.
He claims that everyone should tackle their own Raid Pyreneen from time to time. It's important, he says. He insists that it makes a meaningful difference in one's life. At the very least, I–a most disinterested and reliable third party, your narrator–observed clearly what a difference it made in the life of Our Hero . . . and one must presume that it will be enough to keep the tides ebbing and flowing and to hold the governments of the world safe for Democracy–at least for another year or two.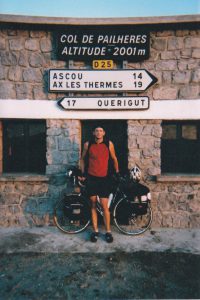 In The Heat Of The Knight
As you are now aware, Monsieur Transglobaliste brought his native Texas weather with him to continental Europe, in order that he might avoid yet another disheartening bout of climatic homesickness of the sort that plagues him every spring and fall when he wonders constantly: Why be COMFORTABLE when one can instead simmer in one's own juices at the bottom of a crushingly humid atmospheric vat of intolerable heat???
Why indeed.
As surprising as it may at first appear, the heat was somehow survivable when Our Cheerful Champion spent all of his time outdoors. He acclimated. As soon as the ride was over, though, all that changed.
In an effort to escape the wretched ugliness and boredom of Hendaye, Our Traveller had taken a train to Bordeaux to relax for a couple of days before returning to Paris. Why Bordeaux? Simple. It wasn't Hendaye, and it was on the way. What he did NOT take into consideration was that the heatwave was general throughout France, and that every hotel with air-conditioning, in every city, without exception, was full. No room at the Inn. "Please to try hotels near the train station, sir." Uh huh. The UN-AIR-CONDITIONED hotels near the train station, is what was meant. Yet he did. Try them, that is. He found a room and proceeded to sweat within its confines like a miserable, filthy, rank, smelly, and disgusting pig for the next two days. Every air-conditioned store or restaurant in Bordeaux received his grateful patronage during those 48 hours.
Yet all things must come to an end, and finally–after these two days in hell–the heat started to subside, and on the third day he made a snap decision to rise again in order to save the living and the dead. So he loaded his bike onto the train for Paris–after once again being told there was "no way" to get his bike from Bordeaux to Paris via railway, and once again capitalizing upon his ability to patronize and annoy–and off he went….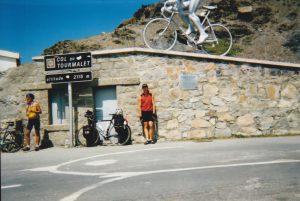 Home Of The "Cheese-Eating Surrender Monkeys"
Despite the best efforts and counterclaims of the "freedom fry"-eating morons in his country of origin, The Pride of All Rides stands firm in his conviction: France rocks. And if he is to be taken at his word (and he is) no place in France rocks quite the way that Paris does. This was to be his 4th and longest stay in the City of Lights, and he made the most of it, waiting for the event that was the ostensible reason for his entire european outing: Paris-Brest-Paris (PBP).
---
You might also like