The King's Tale
Note to Readers:
The following story is an account of one man's 2-wheeled adventures through the Old Country during the summer of 2003. The author of the tale which follows–a rather smelly gentleman who would only identify himself as "The King,"–has some obvious problems with prolixity and verbosity, seemingly under the impression that "if it ain't long, it ain't good." (Yes yes…I know…"that's what she said.") On the other hand, he has undertaken the narration of a 6-week journey that took him through 8 countries (France, Belgium, Luxembourg, Germany, Austria, Leichtenstein, Switzerland, and Spain) and over 40 different Alpine and Pyrenean passes. A faithful accounting thereof is bound to be a bit on the wordy side, no?
Feel free to ignore the whole endeavor, or to skip about as you see fit. In any case, after a bit of haggling, The King told me I was free to distribute his work to any and all of my friends but that he intended to retain the copyright, in hopes of someday earning enough money from his magnum opus to buy a six-pack and a ticket back to some place he called "Graceland." In any case, that's my story, and I'm sticking to it.
So, without further ado, please enjoy The King's Tale as much as its teller (apparently) enjoyed living the events to which said tale gives voice.
::::::::::::::::::::::::::
The Cyclic Adventures of the Transglobalist
Dearest Friends and Smitten Admirers of the Illustrious Salsa Pretender: rogue, charlatan, statesman, and intrepid slayer of Mountains—
This notice will serve to inform you of the recent exploits of Our Hero, as he proudly stormed the citadels of European Culture and Cyclisme in the name of all that is good, right, and holy.
In The Beginning. . .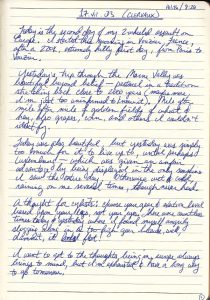 Having arrived in Paris on the 15th of July, apparently just missing a HUGE National Holiday given in his honor on the 14th (he was shocked and bewildered that the French loved him so dearly, but accepted their well-placed affection with his usual modesty and grace), and having further reassembled his bike in the middle of Charles de Gaulle airport and loaded it down with nearly 40 pounds of vital, essential, crucial, indispensible, obligatory, compulsory, mandatory and necessary gear, Our Heroic Cyclist hopped on a train and found his way eastward to meet his friend Maryse . . . someone he had known for 5 years via the InterWebs, but had never before met in person. She was a charming, delightful hostess, but seemed a little confused–claiming that the holiday on the 14th was something called "Bastille Day" and wasn't actually in honor of Yours Truly. Oh well. One supposes she couldn't be PERFECT, after all.
Early the next morning he set out with his fully loaded rig towards Cologne, his home away from home for 2 full years of misspent youth. This journey took three days and covered almost 600 Kilometers, passing through the stunningly beautiful Marne Valley en route to Belgium, Luxembourg, and finally into the Fatherland itself–Germany. He had not anticipated the quantity or severity of the climbs during this portion of his sojourn, and arrived in Cologne fatigued and weary.
"Weary" means that his legs were scarcely functional, and that the old phrase "that really chaps my ass" no longer referred to a cause of annoyance or anger. The Figurative had become The Literal. The Word, Flesh. Supremely irritated flesh, but flesh nonetheless. And naturally there was pain. Lots of pain.
Two days were spent in Cologne visiting old friends and relaxing at the home of Klaus and Christa Fellenz, two of the most wonderful people in all the world–his surrogate parents from those student days in Germany, and his ass was allowed time to unchap, as it were, before his two-wheeled odyssey through the Old World once again took up where it had left off.
The Journey Southwards
Phase II: head for Innsbruck, Austria and then turn west–through the Alps.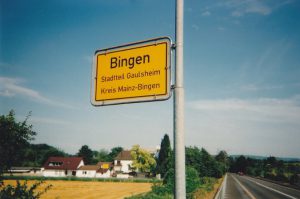 Accordingly, The Master of Map and Compass set out in a south-southeasterly direction, following the majestic Rhine river as far as Bingen (as in 'Hildegard von') before turning away and back into (yup) those pesky, gosh-darned, ubiquitous HILLS.
European Cycling Theorem 1.1: if one is in Europe and is not following a large river, one is probably climbing, descending from a climb one has just completed, or dreading the climb which has just appeared in one's path. Alternatively, one has just attempted to pass through a large city, losing many hours of one's time threading one's way out of said city's labyrinthine streets, alleyways, and bike trails.
After three looong days of intense climbing and unusually hot weather (it turns out Our Beloved traveller brought his native Texan weather along with him to Europe; the humidity and temperature were extremely high for almost the entire trip), he arrived in a city named Aalen (where he nearly died in a tunnel forbidden to cyclists. Ooooops!), and realized that–at his current rate of progress (about 100 miles a day) he was likely to spend all his time riding TO the mountains instead of IN the mountains. So he hopped on a train, spent a day resting in Don't-Blink-Or-You'll-Miss-It-Mindelheim, and decided that he would begin his alpine ride the next day–the 24th of July– in an austrian town named Reutte, chosen arbitrarily from his map due to its ideal location.
Why–one may now legitimately ask–didn't he just RIDE the rest of the way? Well, keep in mind that all of his travel decisions at this point were aimed at getting him to Cerbere, France, on the first day of August so that he could rest and begin a ride called the Raid Pyreneen on August 3rd. . . and that he had concrete goals to achieve between Reutte and Cerbere–including several nasty Swiss passes and the Mother Of All Climbs–L'Alpe d'Huez. But I, Dear Reader, am getting ahead of myself!
Back to Reutte . . .
And the Mountains Rising Nowhere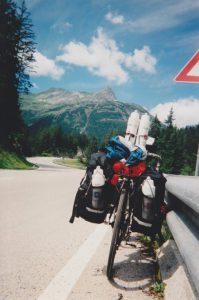 Disembarking that evening, surrounded by mist-shrouded mountains and lightly pelted by some of the only rain he was to experience during his entire 6-week stay, Our Hero felt himself succumbing, once again, to the charms of the Old Country.
Weight dropped from his shoulders, and years from his countenance.
Cares were left far far behind.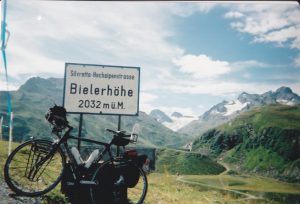 He spent the 25th and 26th bagging passes in western Austria, the most stunning and deadly of which is known as Bielerhöhe. Its thirty-one numbered hairpin turns were, for him, more difficult than L'Alpe d'Huez. He found it more than a little disconcerting to ride on a road so steep that in only 2 or 3 turns one has left one's point of departure hundreds of feet below, and to do so time and time again. (Noting my obvious disbelief he assured me that this was indeed no exaggeration!)
---
You might also like