[ TanTan, Morocco ]
Another day off the bike. Unplanned and undesired, but there you have it. Willing mind. Weak flesh. Etc, etc. I arrived here mid-afternoon yesterday after two blow-outs: my front tire and the seat of my verge-of-death pants. The weather was also looking dicey, so I decided to stay the night–which has now turned into two. I blame the camels (cement and inanimate though they are; the featured image is the well-known welcoming landmark at the first roundabout in TanTan).
As I approached the police checkpoint just before town, I was looking for any excuse to stop. It was already 3pm. I had errands to run (tailor, mechanic). I had just endured a shocking, unexpected amount of climbing, a light-but-constant headwind, and an inexplicable level of exhaustion that left me in low spirits and a$$-draggingly unmotivated to continue. Ok ok, I was also going to face a final, ugly climb just past town–the final climb, necessary to reach the oceanside plateau that'll continue for the better part of a thousand miles. The climb I had absolutely no juice to confront. Not mentally. Not physically. Not morally, ethically, spiritually, scientifically, intellectually, nor any other adverbial modifications you can think to apply. Basically: there was no effin way I was going any farther.
So I didn't.
To make me feel just a bit better, the weather decided to crap out: my laziness wasn't going to cost me a view of the blue supermoon; there would be no blood-red eclipse visible anywhere in north Africa; in no way would any hypothetical camping experience on this fine evening outdo last night's gorgeousness.
About which more anon.
Anon: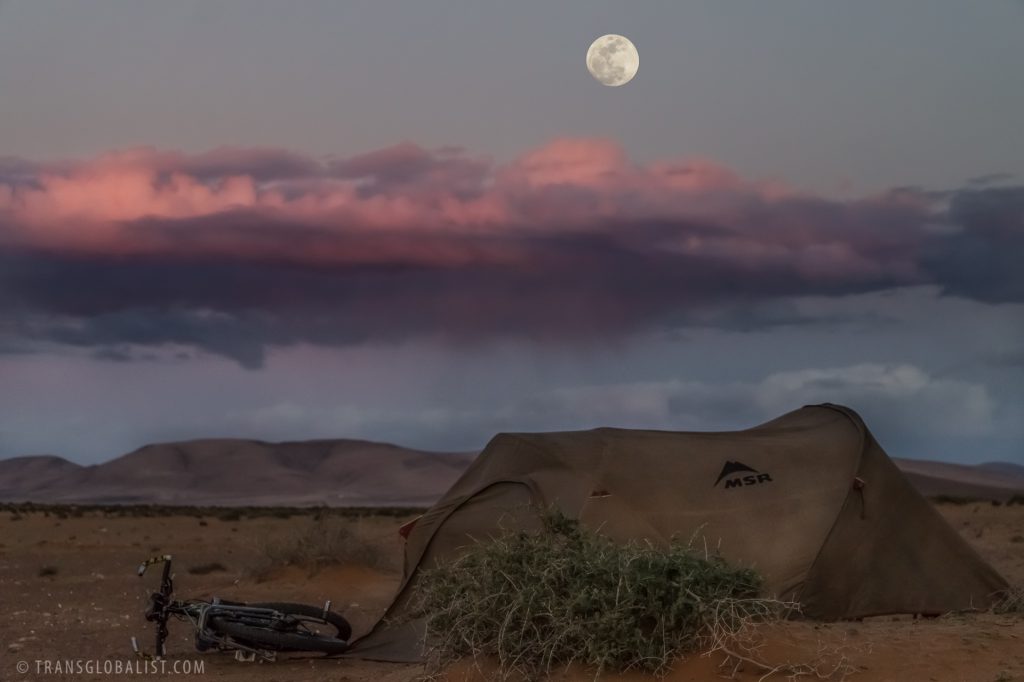 One night before its fullness, perhaps, and with a slight nibble missing in the lower left quadrant, but still a memorable place to pass the night.
And so I found a room, found a tailor (again, no charge), got my tube repaired by a professional, and set out to explore the local medina. It's a nice one, by the way, and I doubled down on caloric intake to compensate for the weird afternoon bonk. Perhaps most frightening to those who know me, I watched most of the African Football Championship Semi-finals: Morocco v. Libya. (We won, just FYI. And the whole town exploded in screams and cheers as Morocco made it to the Finals for the first time ever.)
The next morning–today–I awoke early and had everything packed before looking outside to see that it was raining. I told myself I'd leave if it was cleared by 10am or so. It didn't. Didn't clear until 3pm. And so I stayed. Again.
Tomorrow morning, I'm outta here, rain or shine. I've loaded up with a few extra supplies and an extra couple of liters of water, but I'm anticipating a village every 2-3 days, even at my pace. Not sure about internet access though, so don't worry if there's a bit of radio silence.
Tomorrow night should be fantastic: clear skies, the Atlantic on one side, and the Sahara on the other. Photos to follow. At some point.
Ciao for now,
—jim
PS
The disappearing features of the Sahara. That final ridgeline leads up to the plateau near the Atlantic. Time to climb!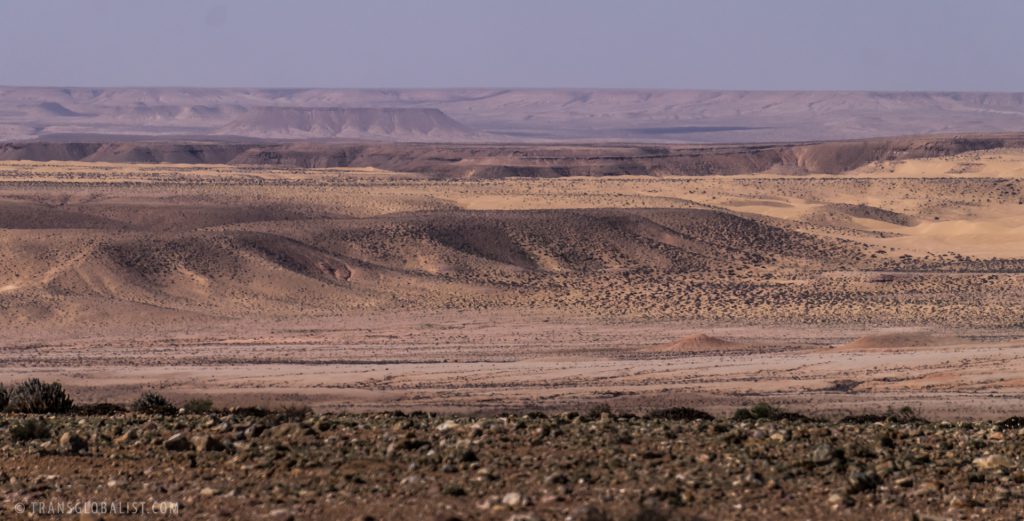 ---
You might also like