[ Leh, Ladakh ]
Make that a ZingZingBar (ZZB)—a seasonal encampment twelve kilometers shy of Baralacha La pass. Baralacha La sits at 4850m—the second of five massive passes along the Manali-Leh Highway. ZZB, at 4320m, is one of several provisional rest areas serving local truckers and tourists who brave this route during the summer months. Folks like me.
The real ZingZingBar sits a few kilometers away and perhaps a couple hundred meters lower—home to a bevy of seasonal, high-altitude highway workers whose fascinating story deserves to be told—a long story of how these BRO (Border Roads Organization) highways are built, who does the actual work, where they come from, and why. This is not that story.
When I reached the campsite two days ago, it marked the end of a long day of scintillating landscapes and not-so-scintillating interior monologues. Little had motivated me to stop for image-making. (This says nothing about the sights, and everything about the seer.) On a day fraught with marauding ghosts from multiple pasts and hoped-for futures—living in the moment hadn't been on the menu. Not a big problem, right? You win some, you lose some. Using my exhaustion as an excuse, I wandered aimlessly around the camp area snapping pics as the sun dropped lower in the late afternoon sky. My heart wasn't in it, but then this guy—a random worker from the actual ZingZingBar, walking home alone, in the deepening chill—wandered past. Deserted highway? Golden hour sunlight? Not-so-distant Himalayan peaks?
Click. Click click. And then forgotten.
When I arrived in Rumtse the next evening and started looking through images, I found it: my unintended metaphor, and paean to Rumi meme-makers everywhere. An image of a lone figure—a faceless silhouette—wandering into the unknown with only his shadow as companion; into an inestimably vast and magnificent landscape, going who knows where / nowhere.
Perfect? Or merely a flash of accidental, kitschy genius? Perfect fodder for Rumi's meme-maker minions inhabiting the interwebs? The latter seems likely.
A random search for "solitude" in my copy of The Essential Rumi proves the point:
Which is worth more:
A crowd of thousands, or your own genuine solitude?
Freedom, or power over an entire nation?
—Rumi, The Private Banquet
Maybe we can take the usual liberties, and tighten it up (poetic license and all that jazz):
Which is worth more:
A crowd of thousands, or genuine solitude?
Freedom, or power over others?
—Rumi, The Private Banquet with JWB3
Either way, you get the…picture. *cough*
Julley! (The Ladakhi version of "Namaste")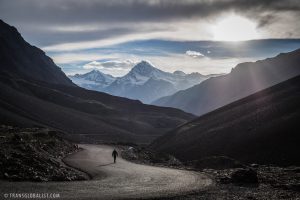 ---
You might also like